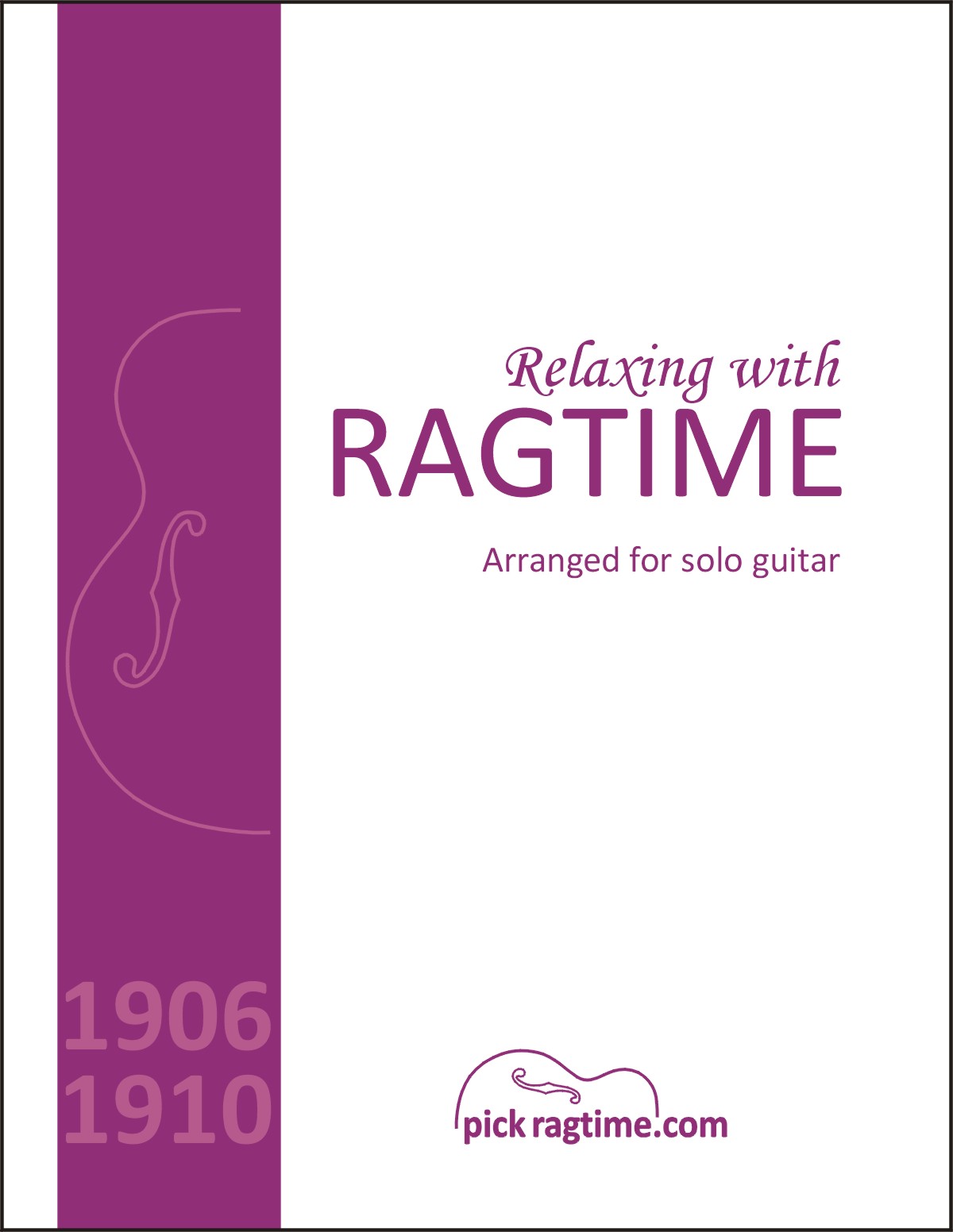 Relaxing with Ragtime Songbook
Arranged for solo guitar by Ted Hallas
This songbook of ragtime music has been arranged for solo fingerstyle guitar. The original piano compositions were published between 1906 and 1910.
The rhythmic style of ragtime piano has been adapted for the guitar by using alternating bass lines characteristic of pattern picking or Travis picking. These guitar arrangements are meant to be played at a slower tempo than the fast pace of ragtime piano. The result is a guitar style that has a relaxed feel. It is fun to play and it appeals to a wide audience.
"Relaxing with Ragtime Songbook" is available for sale at Sheet Music Plus.
30 pages. Item Number: S0.197623


Click here.
Sample pages
(left click to view)
Demonstration videos* (YouTube links)
*PLEASE NOTE: The demo videos, as a learning tool, present the song sections. The song form (i.e. A-A-B-B-A) and section endings are included in the sheet music.
Style Notes
These arrangements include standard notation, guitar tablature, left-hand fingering, chord symbols, tempo in beats per minute and the song's form.
The songs are arranged to improve the "playability" for the intermediate-level guitarist:
The original piano compositions have been transposed to common guitar keys such as A, C and G to accommodate the use of open strings

All arrangements are written in 4/4 time, instead of 2/4 time

The four-section structure of traditional rags with a key change has been altered in most arrangements. Some sections have been omitted completely and others have been transposed to the main key signature of the song. Several connecting measures have been rewritten to accommodate these changes.

Chord symbols have been added as reference points and as an aid to memorization